Quencher

Quenchers can absorb energy that is dissipated by a fluorophore and emit it either as light of a longer wavelength (FRET quenching) or as heat.
The most commonly used quenchers are Dabcyl (4,4-Dimethylaminoazobenzene-4-carboxylic acid) and Tamra, a fluorescent dye. According to the fact that Tamra is a fluorophore by itself, it can be cause of high background fluorescence. Increasingly, therefore non-fluorescent quencher, so-called Dark Quenchers, have established.
In contrast, Dark Quenchers are molecules that can absorb energy emitted by fluorophores without showing any fluorescence by themselves.
Figure 1: Comparison of amplification curves (normalized) of a qPCR assay with 5'-6-Fam-labeled probes and four different 3'-quenchers.
In each assay, the same primer and probe sequences were used. All assays were run in duplicate (Genaxxon ProbeMasterMix No ROX,
MyGo Pro, pre-calibrated channel for Fam).
In direct comparison, the quenchers (BMN-Q535, BMN-Q620, BHQ-1 and TQ2) show almost identical results with the fluorescence dye 6-Fam.


It is important that fluorophore and quencher are compatible with each other. The individual quenchers offered by biomers.net differ in their absorption maxima. The quenching efficiency of the quencher peaks in its absorption maximum. Therefore one can and should select the appropriate quencher for a certain dye.

biomers.net offers a range of quenchers covering the largest part of our dye range: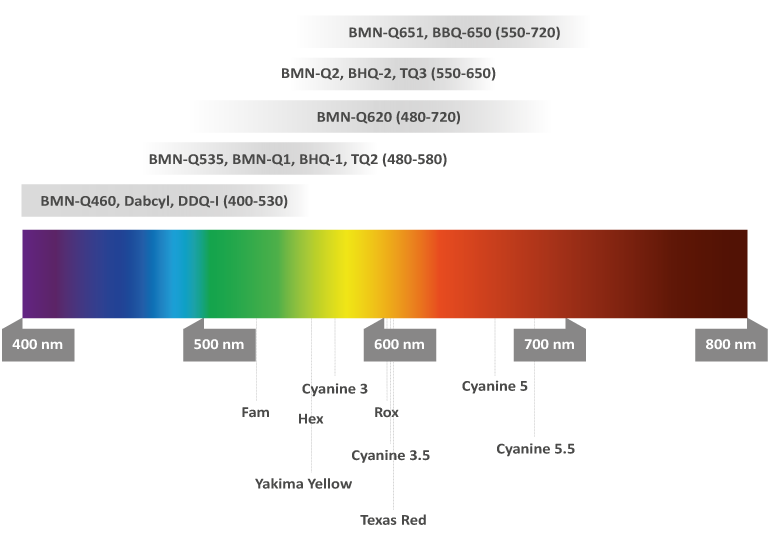 BMN Quencher (BMN-Q460, BMN-Q535, BMN-Q1, BMN-Q620, BMN-Q2, BMN-Q651):
Our biomers.net quencher set containing the quenchers BMN-Q460, BMN-Q535, BMN-Q1, BMN-Q620, BMN-Q2 and BMN-Q651, nearly covers the complete wavelength range.
All BMN quenchers are produced by biomers.net.
With an absorption maximum of 460 nm, our Dark Quencher BMN-Q460 is particularly suitable for the short-wavelength region and represent an excellent alternative for the quenchers Dabcyl and DDQ I.
In addition to use in Molecular Beacons, in which it inhibits fluorescent signals by contact-quenching, BMN-Q460 can be used in various molecular biological applications. As 3´-quencher in Dual-Labelled probes (5´-nuclease assay), BMN-Q460 can be used in the range of 400-530 nm, so it is ideally suited for the fluorophores Atto 390, Atto 425 and Atto 465.
BMN-Q535 is a Dark Quencher with an absorption maximum at about 535 nm and a quenching range from 480 nm to 580 nm. The quencher is in the same range as BHQ-1 and according to this BMN-Q535 can be used as excellent alternative to this quencher.
A perfect alternative to BHQ-1 is our quencher BMN-Q1, which has the same characteristics as the Black Hole Quencher. Like BMN-Q535, BMN-Q1 has an absorption maximum of about 535 nm and a quenching range of about 480 to 580 nm.
With its absorption maximum at approx. 580 nm and a quenching range of 500 to 650 nm, BMN-Q2 has the same properties as the quencher BHQ-2.
Further representatives from our biomers.net quencher set are BMN-Q620 and BMN-Q651. With an absorption maximum of 620 nm and a quenching range of 480-720 nm BMN-Q620 has a relatively wide range and can be efficiently used for a variety of fluorescent dyes.
BMN-Q651 has a quenching range of 550-720 nm and an absorption maximum of 650 nm and thus ideally covers the long-wavelength region and can be used as an alternative to BBQ-650 or DDQ II.

Tide Quencher (TQ2, TQ3): Tide Quenchers (TQ) were designed and developed by AAT Bioquest and are license-free. These quenchers show a similarly good efficiency as Black Hole Quenchers. TQ2 (absorption maximum at 515 nm) fits quite perfect to 6-Fam and is also suitable for Sima, Hex, Tet and Joe.
TQ3 (absorption maximum at 570 nm) is highly compatible for quenching dyes like Cyanine 3 (Cy3) and Tamra, but also shows quenching activity in the longer wave area for Rox, Texas Red, California Red and Cyanine 3.5 (Cy3.5).

Black Hole Quencher (BHQ-1, BHQ-2): The Black Hole Quenchers (BHQ) were developed by Biosearch Technologies. One quencher is BHQ-1 with an absorption maximum at about 530 nm and a quenching range from 480 nm to 580 nm. Another one is BHQ-2 with a maximum of absorption at about 580 nm and a quenching range from 550 nm to 670 nm. Due to chemical instability of their building blocks, we do not offer oligonucleotides with BHQ-0 or BHQ-3. BHQ-2 is also suitable for the combination with Cyanine 5 (Cy5).

Deep Dark Quencher (DDQ I, DDQ II): DDQ I and DDQ II were developed by the group of Tom Brown, Southampton and are license-free. Based on Methyl Red, DDQ I has an absorption maximum at about 470 nm. The other one, DDQ II, is based on Disperse Blue 3 and shows an absorption maximum at about 650 nm.
Please note the modification DDQ II has been discontinued; it will be sold while stocks last. As an alternative to DDQ II, the biomers.net Quencher BMN-Q620 can be used.

BlackBerry Quencher 650 (BBQ-650): BBQ-650, designed by Berry & Associates, is particularly well suited for longer wavelength absorbing dyes (e.g. Cyanine 5, Cyanine 5.5 etc.).
Quencher
ABS

[nm]

Quenching Range
DDQ I
430
400-530
Dabcyl
453
400-530
BMN-Q460
460
400-530
TQ2
520
480-580
BHQ-1
534
480-580
BMN-Q535
535
480-580
BMN-Q1
535
480-580
TQ3
570
550-650
BMN-Q2
580
500-650
BHQ-2
580
550-650
BMN-Q590 (

will be discontinued)

590
550-650
BMN-Q620
620
480-720
DDQ II

630

550-720

BMN-Q651
650
550-720
BBQ-650
650
550-720