Digital order-related documents (invoices, certificates)

Digital documents
Delivery of digital order-related documents by e-mail
The delivery of order-relevant documents is now also possible by e-mail.
Now, you can send invoices and/or quality certificates (PDF) by e-mail to your invoice-related e-mail address (also several e-mail addresses are possible). You can indicate this either in your user profile or directly during the online order under "Delivery method for order-related documents".
Please note, the invoice by e-mail will replace the paper form. The paper version will no longer be sent.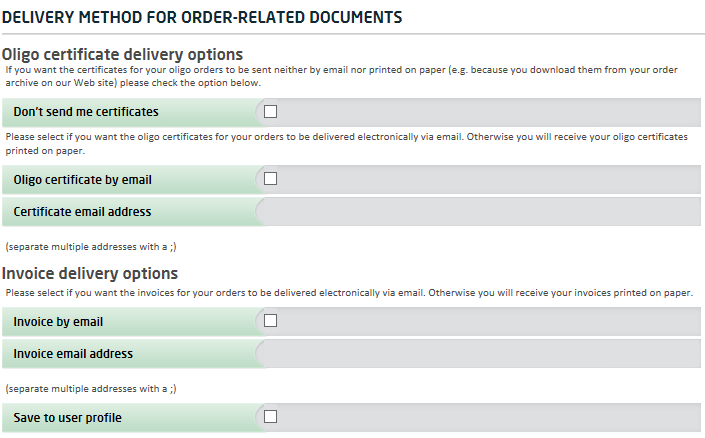 Some remarks regarding e-mail security:
Please mind that e-mail is generally not a secure way of communication.
biomers.net uses so-called opportunistic encryption on its mail servers. This is a widely-used method where transmitted data is being encrypted given that the receiving mail server of your institution or company also offers this functionality. However, this method can not ensure that the receiving party is really who it says it is, and if the receiving mail server does not offer opportunistic encryption all data is being transmitted as clear-text.
For normal security requirements this is fully sufficient.
However, if for any reason you require a higher level of security regarding your oligonuleotide sequences, we recommend that you either stay with the printed oligo certificate on paper or download the digital oligo certificate from your Web archive on our site. ​If you want to download the certificates exclusively from your order archive, you can select this option directly during the online order. In this case, the certificates will not be sent to you by e-mail or in printed form.
Please note, however, that only online orders (via the biomers.net online order form) are recorded in the archive and therefore ony their certificates are available for download.